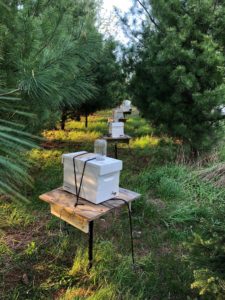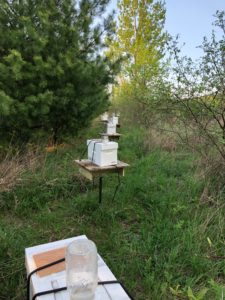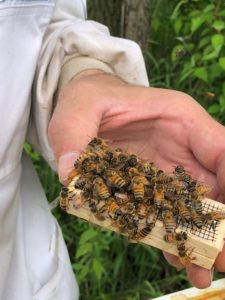 Mated Queen Bees
Our queen honey bees are produced locally from survivor stock in our Minooka, IL mating yard (currently several hundred mating nucs).    Each spring we evaluate our apiaries and select a handful of top quality colonies with the traits below.   The selected mother queens from these colonies are grafted from to produce daughter queens which we mate in our Minooka IL apiary.
Colony and mother queen must survive one or more Chicagoland winters

Has produced 125+ pounds of excess honey in prior year

Has a gentle temperament and be easy to work

Must show mite and disease resistance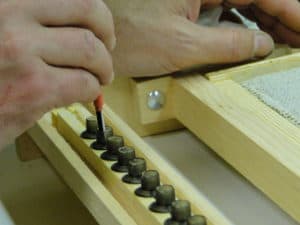 Drone Production Colonies
We work with neighbors surrounding our mating yard to create a ring of desirable drones 1/2 to 3 miles out.  Survivor colonies from the previous year are located in these yards to insure that not only are the queens that we create daughters from overwintered stock but the drones are also from overwintered colonies.   These colonies flood our area with drones to ensure the daughter queens are well mated.
Queen Bee Evaluation
The new queens laying patterns are evaluated before offering them for sale.  We typically allow the queens lay one or two brood cycles and monitor their behaviors.   We watch for a solid capped brood pattern and any spotty pattern queens are removed and replaced with new queens.   Once we head into early fall and the drone population begins to lessen we shut down the grafting and "new" queen production processes as there may not be enough drones to produce well mated queens at that point.   However, we will continue to offer for sale the already mated queens we have produced earlier in the season until stock runs low sometime in late September or early October (depending on the weather).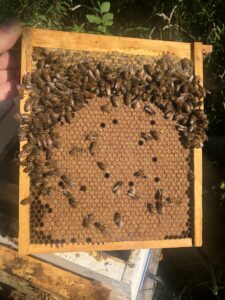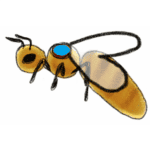 Local Queens for Pickup and Shipping
Mated / marked Illinois queen bees are $35 throughout the spring, summer and fall and are available for pickup as well as shipping.  Call 815-521-9116 or email [email protected] for details and to arrange a purchase.
Bee packages and nucs are available seasonally.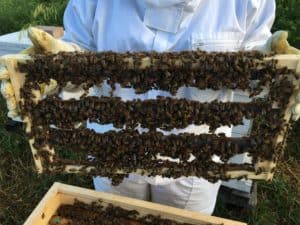 *** 2024 Package Bees, Nucs and Queen Honey Bees are available for pre-order !
>> call us 815-521-9116 or email [email protected] to get on the list for 2024 <<
CLICK >> Meyer Bees – Packages, Nucs and Queens << CLICK
visit our SHOP for details