Bee Packages ??? or Package Bees ???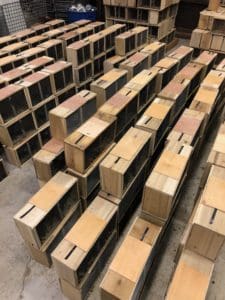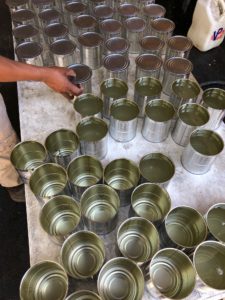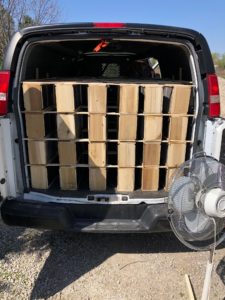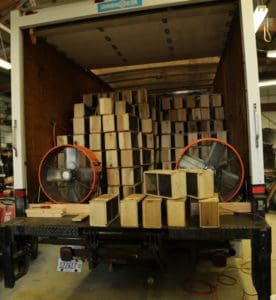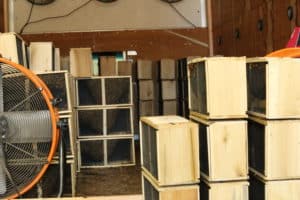 Bee packages are for sale and available in early spring.  We head to Georgia for a week or so for each "batch" of packages.  During this time we shake the bees for the packages, fill feed cans, catch and mark mated queens and assemble all the bee package pieces.  Once everything is ready, we truck all the packages back to Chicago, IL in a climate controlled vehicle.  From start to finish, the bees are quickly run through the "package process" to minimize stress and get them to customers quickly.  Bee packages are available on multiple pickup dates mid March through the end of May.
Local Packages
Once our colonies in the Chicagoland area build up we will begin shaking packages from our own local colonies.   We then add a Meyer Bees queen to the packages and you have a package with zero transport stress and bees and queen accustomed to the Chicagoland weather.   Contact us to request a local package (availability dependent on the weather and colony build-up times, local packages typically start mid to late-May through August).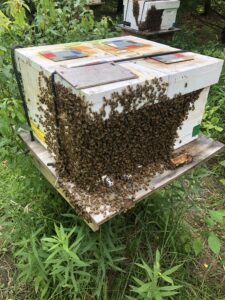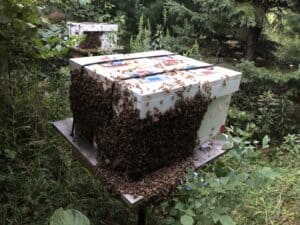 We are now taking orders for 2023 bee packages, nucs and queens.  Call 815-521-9116 or email [email protected] to place an order.
2023 Italian, Carniolan, Russian and Saskatraz packages are available
starting around mid March (depending on weather) through to the end of May – order now!
2023 Nucs are available with pickup dates mid April through September
2023 Italian, Carniolan and Russian queens are available mid March and the rest of the season
2023 Saskatraz queens available mid April to end of June
>> call us 815-521-9116 or email

[email protected]

to get on the list for 2023 <<
click PDF brochure below or visit our SHOP for details

Nucs
In early spring and throughout the summer, we perform splits on our strongest bee hives across all of our Illinois apiaries to produce 5-frame nucs for sale.  The splits are then transported to our main site in Minooka where we add a marked and mated queen.  The 5-frame nucs are then built up over several weeks to contain 2-3 frames of brood, 1-2 frames of honey/pollen and a large number of foragers.  Once a nuc box is of the correct strength, it is available for customers to pick up.   Note – there will typically be some undrawn foundation on the outside frames to allow for colony growth.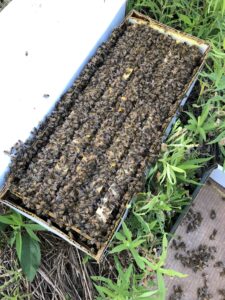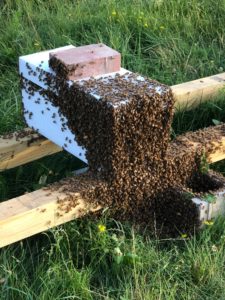 Overwintered Nucs
We will have 2022 overwintered nucs available being kept / maintained at our Minooka IL apiary to be sold as 2023 nucs with the original 2022 overwintered queens.  We let the nucs build up during early spring to make sure there are no issues with supersedure.  Call 815-521-9116 or email [email protected] for details.